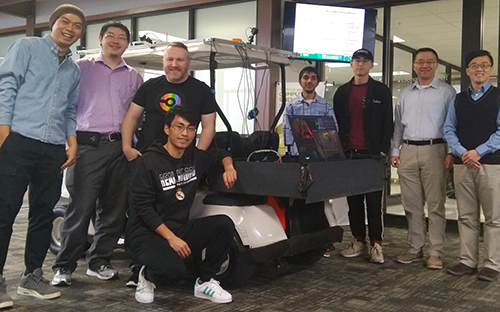 UNT Engineering has received a $360,000 Research Experience for Undergraduates grant from the National Science Foundation to host camps on vehicular edge computing and security for the next three summers.
The 10-week camps will be open to 10 students who come from populations underrepresented in the computer science industry and/or institutions without the ability to conduct research in this area.
Associate Professor Song Fu and Assistant Professor Qing Yang are the camp directors as well as the principal investigators on the autonomous car project in UNT's Department of Computer Science and Engineering. They explained that, unlike industry, their autonomous cars would be linked to all other autonomous cars creating a network through which vehicles can get a better sense of their surroundings from a multitude of sources.
"Vehicular edge computing is essential to our research project. Data collected by one car, let alone dozens or hundreds, can't just be uploaded into the cloud in real time. It is too much data," said Fu. "Vehicular edge computing is a way of putting the processing power directly into the car or nearby base stations. That way, the cars can talk to one another directly instead of data traveling up, being processed and coming back down."
Students also will explore the security aspects of the system.
"In the case of autonomous cars or any car connected to a computer network, security is safety," Yang said. "We will be working with students to find ways to safeguard an autonomous vehicle network. There have been cases of networked vehicles being hacked from the outside. We must make sure this is not a possibility."
Fu added that students selected for the summer camps will be investing in the future of the transportation industry. He said that in the next decade he wouldn't be surprised to see his research being used and autonomous cars on the road. There will be a need not just for mechanics, but computer engineers.
Students selected for the program will receive a $5,000 stipend, live on campus and receive all materials needed for their research. Applications for this summer's program are due no later than March 31. Students can apply here.