Wednesday, November 21, 2018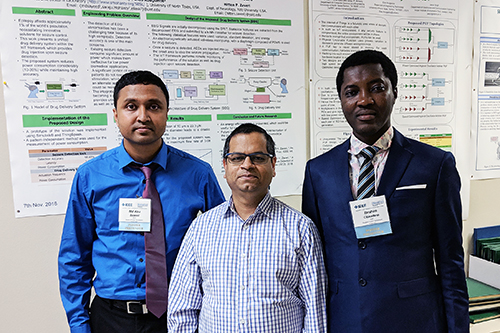 Three student teams at the College of Engineering were recently recognized at the IEEE MetroCon 2018 conference for their research and poster presentations.
In the Department of Computer Science and Engineering, two teams received first and second place in the poster competition. First place, with a $1000 prize, went to Ph.D. student Md A. Sayeed, and second place – a $500 prize – went to Ph.D. student Ibrahim L. Olokodana.
Under the advisement of UNT college professors Saraju Mohanty and Elias Kougianos, Sayeed's research focuses on developing an IoT-based system that can accurately monitor and control a seizure. This new approach provides an alternative method for those suffering with seizures another option beyond anti-epileptic drugs and surgery.
Olokodana's research, under the advisement of Mohanty, Kougianos and Assistant Professor Maurizio Manzo, focuses on accurate monitoring of the brain signal using photonic sensors. The project is expected to expand further into effective brain-computer interface through photonic sensor and peripherals.
A third team – all undergraduate students from the Department of Electrical Engineering – received $1,000 for also winning first place. Seth Norris, Robin Velazquez, Mandy Stutts and Jasmine Williams teamed up to characterize the potential threat due to the electromagnetic emission and electrostatic discharge caused by a manufacturing device. The work presented is part of their senior design project, which is sponsored by Peterbilt. With the coordination of the team's UNT advisor Department of Electrical Engineering Assistant Professor Ifana Mahbub and Peterbilt advisors Anuj Srinivasan and Stephen Elliot, the students characterized the electrostatic discharge and electromagnetic interference remotely inside an anechoic chamber and assessed its impact on the surrounding microelectronics.